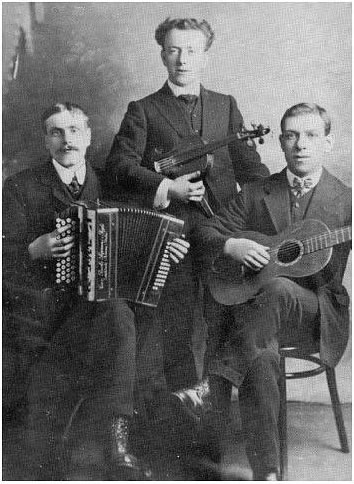 We know this is not, Rod Stradling, Fred McCormick or Keith Summers, but....
The photograph actually shows the accordion player, James Brown (he can be heard, with many others on Topic TSCD 601 Melodeon Greats). However Rod and the others at Musical Traditions are looking to identify the fiddler and the guitarist; any ideas? If you do. e-mail the folks and let them know, several e-mail addresses can be found at the bottom of this page.
Oh.....welcome to this page! Here we are going on, and hadn't noticed you were here....Music Traditions has long been a part of our lives, what with providing absolutely wonderful pictures, articles and a few complete books, and.....a complete discography of everything Topic Records has ever issued, plus, discographies of other labels that issue folk tradition, a direct link to the page can be found on the right hand side. There's so much to see, read and yes Music Trad, also has records for sale, check out the catalogue
There so many people to thank for providing this incredible service, it would take a website unto itself to list everyone, so we'll settle for, Rod Stradling,
Fred McCormick and Keith Summers to name, but to all of you who've provided articles, reviews, and everything else, Thank You, massively for all you've done and all you will do, in the future
Love and Mercy
VWML Manuscripts On-Line
Over the past few years the Library has been creating databases of the singers and musicians found by several of the early twentieth century collectors (Sharp, Vaughan Williams, Karpeles, Hammond and Broadwood to date). With the help of Dr Richard Butterworth, a lecturer at the University of Middlesex, we have now put these up on the web as a trial run. We have also created a discussion group to attract comments. Please have a look and see what you think. The site is not complete and the databases still being worked on, but it's a start.
The address is:
Malcolm Taylor - 19.8.03
or click on the picture of Vaughan Williams at the top of the page

Correspondence to Musical Traditions:
Rod Stradling, 1 Castle Street, Stroud, Glos GL5 2HP, UK
E-mail: rod@mustrad.org.uk
- or, if you don't mind the fact that he's getting a bit deaf ...
Phone: 01453 759475
Fred McCormick, 2 Orchard Grange, Moreton, Wirral, Merseyside CH46 6DZ, UK
E-mail: Fredamhran@aol.com
Phone: 0151 678 6311
Keith Summers, 49 Crossfield Road, Southend on Sea, Essex SS2 4LS, UK
E-mail: keith.summers@virgin.net
- or, if you don't mind that he's always out fishing, watching football or down the pub ...
Phone: 01702 618136

A Sampling Of Articles
New Forest bones player
by Dave Williams
the first 100 years
by Suresh Chandvankar
about accordion types ...
which is best for what type of music ...
tips and recommendations, etc
by Rod Sradling
a working class hero ...
by Vic Gammon
song collecting in
the Appalachians.
by Mike Yates
East Suffolk music & song
by Keith Summers
And A Discography